FIT COSMETICS Brazilian Keratin Progressive Semi Definitive Brush 1L – 35.2 fl. oz
Content Description:
Brand: Fit Cosmetics
Type of treatment: Semi Definitive Straightening
Format: Bottle
Presentation: creamy
Effects: Smooth 100%
Is it kit: No, Single Step
Units per pack: 1
Quantity: 1
Unit type: 1000mL
Model: Progressive
Brazilian Keratin
Semi Definitive Brush based on acids, amino acids and special oils. Due to its high molecular weight and thick consistency, it is ideal for medium and chemically treated hair. Promotes greater protection and nutrition to colored hair. With pH between 1.5 to 2.5, it is possible to maintain the balance in chemically treated hair.
Ideal Hair:
Medium and Fine, Colored and With Chemistry.
Common Features:
Alisa 100%
No formaldehyde
No Yellow
does not fade
Compatible with any chemical present in the hair.
Smoothing Base:
FREQUENTLY ASKED QUESTIONS ABOUT BRAZILIAN KERATIN FIT COSMETICS
Question: Does it have a strong smell, does it burn your eyes?
Answer:  It does not contain burning sensation (discomfort), as it is an organic product with no smell.
Question: Can it be applied to blonde hair?
Answer:  Yes you can, it doesn't fade the hair color , remember what causes hair color change and excess heat.
Question:  Which shampoo should I use to make the Progressive Anti – Residue or Treatment Shampoo?
Answer:  Always use the treatment shampoo, we do not recommend the use of anti-residue shampoo
Question:  What is the duration of the procedure?
Answer:  Durability is 3 to 4 months on average, it will depend a lot on how the person takes care of the hair, how many times you wash your hair a week, what type of shampoo you are using, the less you take care of your hair, the less time it will last .
Question:  How often can I apply the product?
Answer:  It can be applied as soon as the root is grown, we don't have a set time for the reverse application.
Question:  Is the product Original?
Answer:  Yes, all of our products are original, supplied directly by Fit Cosmétics, the company that manufactures Brazilian Keratin, with an electronic invoice.
Question:  What is the Expiration date?
Answer:  We work with an expiration date of 36 months from the manufacture of the product.
Question:  What is the color of the product (Cream)?
Answer:  The color of the progressive is Purple, as it appears in the product images.
Question:  What is the difference between progressive Brazilian Keratin and Amazon Oil?
Answer:  Both have the same 100% smoothing power, the main difference and the indication of the product, Brazilian Keratim we recommend for medium hair, Fine Colored and chemically treated hair, it has a greater nutritional load, in addition to having an average reconstructive force.
COMPOSITION: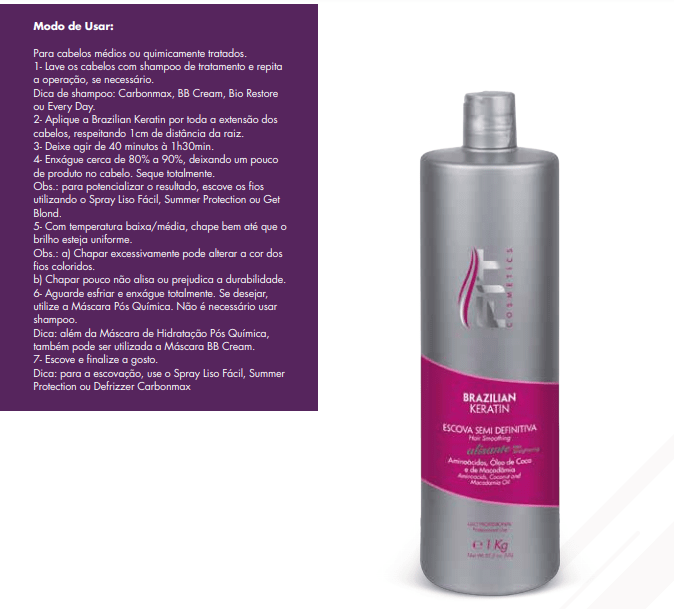 Coconut Nucifera Oil (Coconut Oil): With a repairing effect, Coconut Oil
forms a lubricating film that helps prevent protein and water loss, creating a
protective layer for the hair.
Elaeis Oleifera Kernel Oil (Ojon Oil): Known as a miracle oil, it is the only one in the world capable of simultaneously nourishing and rebuilding. Rich in fatty acids, it is a dense oil and penetrates deep into the fiber. Eliminates frizz and promotes restoration, vitality, protection and resistance.
Macadamia Ternifolia Seed Oil: Rich in nutrients such as selenium, zinc, calcium, iron and phosphorus. It also contains in its chemical composition, oleic and palmitoleic acid. Considered a light and non-greasy oil, it shields the hair against water loss.
Develops stronger, brighter, nourished and protected hair.
Glyoxyloyl Carbocyteine ​​(and) Glyoxyloyl Keratin Amino Acids (pro liss 100): smoothing acid base composed of Glyoxylic acid and Keratin Amino Acids.
WHO CAN USE:
Pregnant women (Always follow your doctor's advice).
Lactating (Always follow medical advice, consult your doctor).
Elderly (Before applying, do an allergy test).
Children (Our recommendation is to always do the allergy test).
Brazilian Keratin is a Semi Definitive brush based on acids, amino acids and special oils.
Due to its high molecular weight and thick consistency, it is ideal for medium and chemically treated hair. Promotes greater protection and nutrition to colored hair.
HOW TO USE:
1-Wash the hair with treatment shampoo, repeat the operation if necessary.
Shampoo Tip: Carbonmax, BB Cream, Bio Restore or Every Day.
2-Apply Brazilian Keratin along the entire length of the hair, respecting 1 cm from the roots.
3-Let it act from 40min to 1h30min.
Obs.: Pay attention to the resistance of the hair.
4-Rinse about 80% to 90%, leaving a little product on the hair. And dry it completely.
Note: To enhance the result, brush the hair using the Easy Smooth Spray, Summer Protection or Get Blond.
5-With medium/low temperature, plate well until the shine is uniform.
Flat iron in thin strands, at a temperature of 180°C (356°F) to 200° (392°F).
Note: a) Excessive plating can change the color of the colored threads.
b) Placing too little does not smooth or impair durability.
6- Wait to cool down and rinse completely. If desired, use the Post Chemical Mask. It is not necessary  to use shampoo.
Tip: In addition to the Post Chemical Hydration Mask, the BB Cream Mask can also be used.
7- Brush and finish to taste.
Tip: For brushing, use Easy Smooth Spray, Summer Protection or Carbonmax Defrizzer.
FIT TIP:
EXCESSIVE IRONING CAN CHANGE THE COLOR OF THE HAIR.
IT DOES NOT SHOW INCOMPATIBILITY WITH OTHER CHEMICALS.
AMOUNT:
1L – 35.2 fl. oz